Comparison Table
Features
Recommended
Compact Video Baby Monitor with 2 Cameras, V24R-2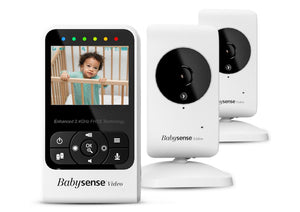 €99,99
Recommended
Split Screen Video Baby Monitor, V43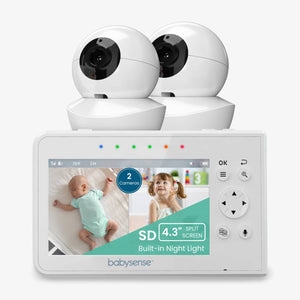 €148,99
Automatic IR Night Vision
Room Temperature Indicator
Hack Proof, Closed Circuit Technology
Screen Size (in Inches)
2.4
4.3
Questions and Answers
Babysense Baby Video Monitor features 2.4GHz FHSS secure wireless transmission technology. Our monitors are designed to perform well and reliably in standard home environments.
No. Babysense Monitors provide safe and secure Point to Point digital encryption wireless transmission and are completely hack-free.
Our monitors are hack-free and do not connect to WiFi or internet. The camera can only be connected to the supplied parent unit.
All Babysense Video Monitors support up to 4 cameras connected to a parent unit.