Comparison Table
Features
Recommended
Babysense 7 Breathing & Compact Video Monitor Bundle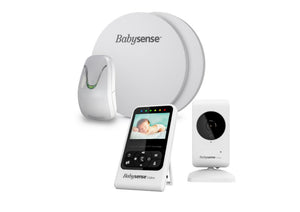 €154,99
Recommended
Babysense 7 Breathing & Split Screen Video Baby Monitor, 2 Cameras, V43
€239,99
Breathing & Video Monitoring
Automatic IR Night Vision
Hack Proof, Closed Circuit Technology
Screen Size (in Inches)
2.4
4.3
Questions and Answers
No - The principle of Babysense monitors is to provide the safest environment to the baby. The monitor is battery operated and all cords are passive thereby emitting minimal EMF transmissions.
Yes - The Babysense 7 Breathing Movement Monitor is FSA/HSA approved.
Babysense Breathing Monitor is a safe and non-touch monitor. The sensors are placed under the mattress and have no direct contact with your baby.
The company was founded in 1991 and soon after developed the world's first non-touch breathing movement monitor.